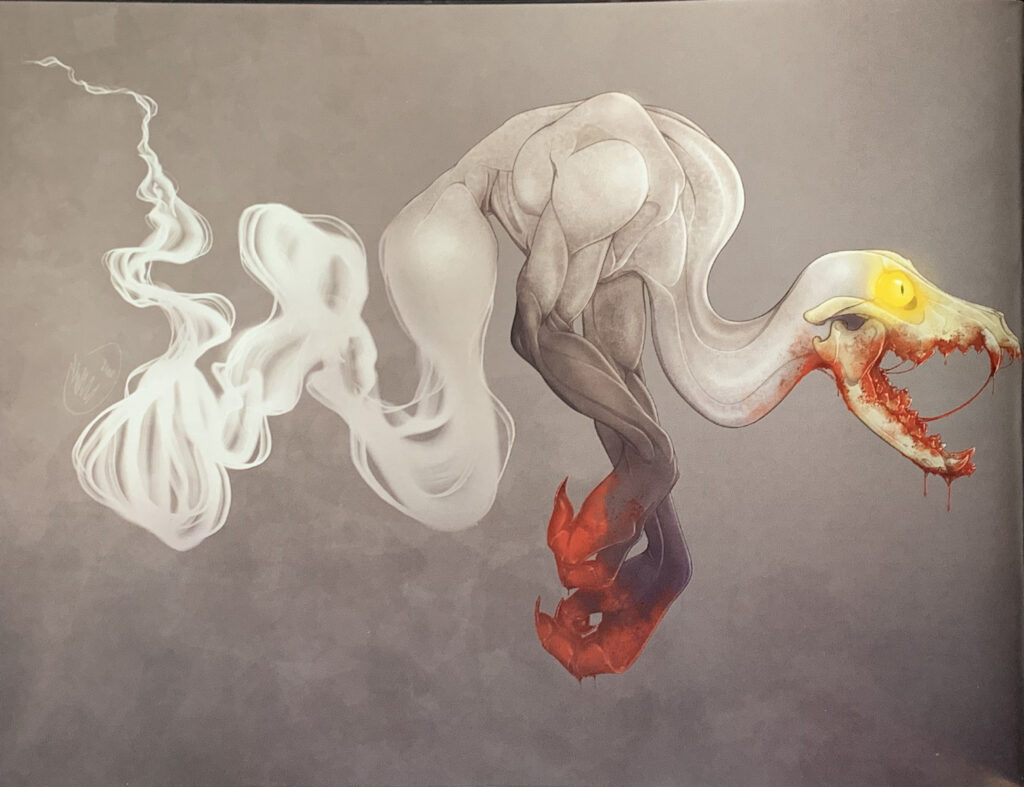 This book is a story about Greenlandic mythological creatures. My best friend Maria is the main author of this book, and I, along with my partner Robin and our friend Qivioq, worked as a research group on the project. This book was recently published but it has been in the making for a very long time. I think Maria and I started talking about it at least ten years ago.
The reason I brought this today is because I believe it is a book that says a lot about the time that we are in right now. It is not only about me as a person but also about us as people. We are a culture that is progressing really, really fast but at the same time we are seeking confirmation in our roots. All the time. You can compare it to a back-and-forth kind of motion. When we look at this book again in 50 years, we will remember that this is what was essential to our time now. A time where lots of things are happening politically, culturally, and in so many other possible ways.
It was a lot of fun making this book but at multiple times during our research I was wondering how people would react to it. We consciously chose to include Greenlandic as well as non-Greenlandic artists to visualize the collected Greenlandic stories. Someone might be offended by that. We live in a country with a lot of progression but also regression, and you can always find people who are fiercely nationalistic. People who simply fear everything new because they think if something changes it will take away the meaning of the traditional. I often thought to myself that a book like this could be dangerous, in that context. A book like this could be misinterpreted. But I still think it was an important book to make.
You are asking how it has been received by the public? They fucking love it!
Atuakkami uani saqqummiunneqarput kalaallit oqaluttuatoqaanni uumasut suuneri aalajangeruminaatsut pillugit oqaluttuatoqqat. Ikinngutiginerpaasara Maria atuakkiortuuvoq pingaarneq, uangalu, aappara Robin ikinnguterpullu Qivioq paasissutissanik ujaarlerlutalu katersuisuuvugut. Atuagaq qanittumik saqqummerpoq, kisianni ukiut qulit matuma siorna Marialu atuagaq siullerpaamik oqaluusereqqaaparput.
Atuagaq ullumikkut nassarpara pissutigalugu isumaqarama atuagaq piffissaq inuuffigisarput saqqummersikkaa. Uannuinnaangitsoq, kisiannili tamatta inuiattut. Piorsarsimassusermi sukkasuumik ineriartorfiusumi inuuvugut, taamakkaluartoq sorlaqarfivut uppernarsaaniarfittut uterfigiuarpavut. Taamaattuarpoq. Ukiut 50-it qaangiuppata atuagaq ammaqqikkutsigu eqqaassavarput allaaserineqartut uagutsinnut taamani pingaaruteqarsimasut. Piffissaq naalakkersuinermi, piorsarsimassutsimi allarpassuarnilu pisimasoqarfiusoq.
Atuakkap suliarnera nuannersorujussuuvoq, paasisaanittali nalaani arlaleriarlunga eqqarsaatigisarpara saqqummernerup kingorna inuit qanoq qisuariarfigissagaat. Aalajangerpugullu eqqumiitsuliortut kalaallit kalaaliunngitsullu uumasut taakkua allaaserineqartut ersersinniarnerini atorniarlugit. Inuit ilaasa mamianartutut kanngunartutulluunniit misigisinnaammassuk. Nuna ineriartorfiusorujussuaq aammali kinguariarfittaqartoq najugaqarfigaarput. Aammali inuiaassutsimik pingaartitsivallaartut naapitasaasarput. Inuit nutaanik tamanik ersissuteqartut, isumaqaramik allannguutit ilitsoqqussat tammartissagaat. Tamakkua pissutigalugit atuakkap navianartuusinnaanera ernumassutigisarpara, atuagaq paatsoorneqarsinnaammat. Taamaakkaluartoq isumaqarpunga atuagaq suli pingaaruteqartoq.
Aperivutit atuagaq inunnit qanoq isummerfigineqarneraat? Nuannarersuataarpaat!